PUREPOWER FULL CIRCLE PPDC4 DIESEL FUEL CONDITIONER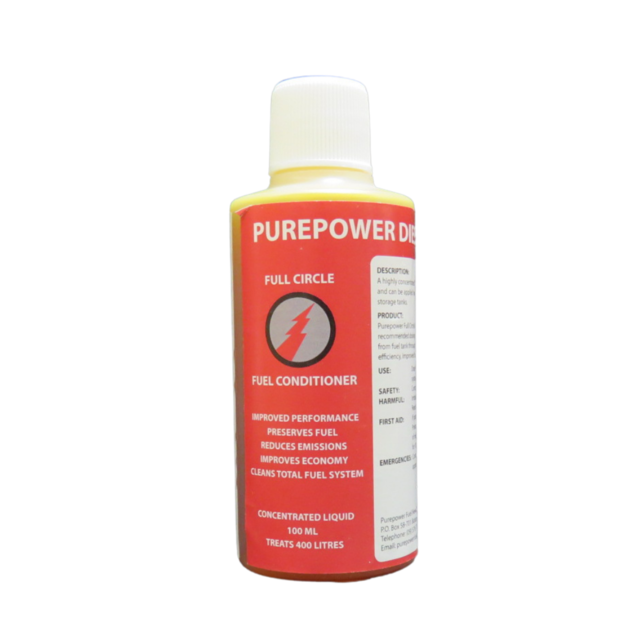 PUREPOWER FULL CIRCLE PPDC4 DIESEL FUEL CONDITIONER is a highly concentrated fuel conditioning product manufactured in various stages. It contains large amounts of Hydrocarbons, such as solvents, oils, lubricants, surfactants, corrosion inhibitors and stabilizers. It is specifically blended to dissolve wax, gums and water deposits in fuel tanks, fuel lines, injectors and contains premium top end lubricants.
PRODUCT:
PUREPOWER FULL CIRCLE PPDC4 provides total fuel system maintenance to give improved engine performance and economy.
PUREPOWER FULL CIRCLE PPDC4 is totally suitable for use in all grades of diesel fuel.
PUREPOWER FULL CIRCLE PPDC4 is used at a dosage ratio of only 1 litre per 4000 litres of fuel and is extremely cost effective.
PUREPOWER FULL CIRCLE PPDC4 removes water from fuel and fuel lines and retards fungal growth (diesel bug). The presence of water from condensation, seal leakage, and bottom sediment and water (BSW) can accelerate the degradation of fuel, especially if high sulphur levels are present. In diesel water allows microbial growth (eg: Homoconis resinae) to proliferate. This 'Diesel Bug' feeds on the fuel, but propagates in the water and causes fuel degradation and filter and injector blockages.
PUREPOWER FULL CIRCLE PPDC4 is formulated to neutralise the harmful effects of acids in aged, water contaminated and high sulphur fuels. Also in reducing the formation of gums and varnish deposits. Not only are these acids corrosive, but they can also catalyse oxidation and cause premature fuel ageing.
PUREPOWER FULL CIRCLE PPDC4 allows fuel to burn cleanly, more efficiently and economically. Maximum energy [Btu] in fuel is utilized. This complete combustion helps keep injectors and combustion chambers clean.
Fuel injectors build up deposits from a variety of causes (poor quality fuel, waxes or biofouling, improper engine timing, etc) Such deposits affect the spray pattern of fuel into the combustion chamber so that there are areas of lean burn and rich burn. The results of this include higher and harmful exhaust emissions of unburnt hydrocarbons and carbon monoxide, rough engine running, excessive fuel consumption and loss of engine power.                                         
This advanced technology and fuel conditioning product provides the following benefits:
Totally suitable and compatible with Diesel fuel.

Suitable for all equipment and bulk fuel tank treatment.

Absorbs and removes water from fuel and fuel lines.

Helps neutralize acids in aged or high sulphur fuel.

Dissolves and prevents wax, gum and varnish deposits in fuel tanks, lines & injectors.

Helps decarbonise combustion chambers.

Prevents fungal and microbial growth.

Reduces harmful exhaust emissions.

Burns off completely and harmlessly.

Contains no corrosive ingredients.

Super concentrated-super economical.

Contains premium top end lubricants.

Does not contain phosphates, boron and any harmful ingredients.

Has high flashpoint (>65⁰C) and low toxicity.

Reduces maintenance and down time.

Improves fuel economy due to better fuel atomization and combustion catalyst.
Contact Details
Request More Information
Details of the product above will be automatically included with your enquiry.