Toyota Hilux UTE 2005 to 2011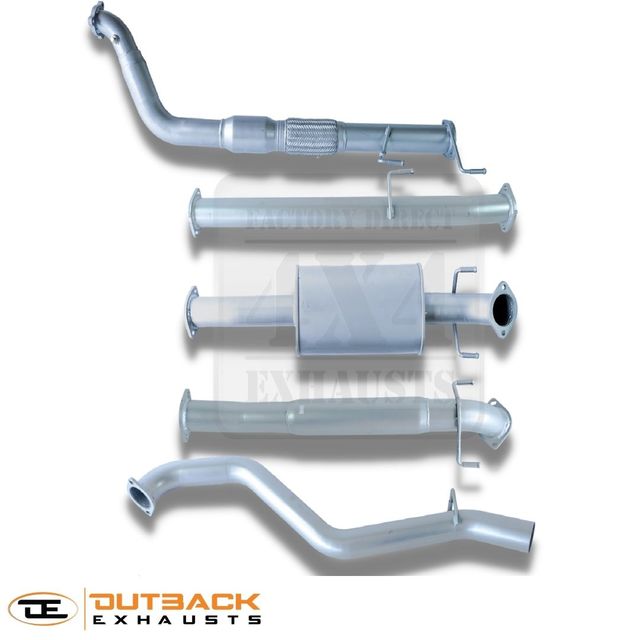 3.0L D4D Turbo Diesel KUN26R 3' Turbo Back Exhaust System 409 STAINLESS STEEL
Price:
NZ$
1,387.28
including GST
NZ$
1,206.33
excluding GST
Proudly Australian Made
Mandrel Bent Tubing, allowing no restrictions throughout the length of the system.
Heat Resistant enamel painted over whole exhaust, not just welds as some of our competitors do. 
Diesel Specific Catalytic Converter - 200 cell hi flow
Quality flange plates and brackets
Improved Note : Get a better note out of your vehicle - usually results in a power gain and fuel economy improvements.
Bolt on system that fits directly to the original vehicle mounting points for ease of fitment - Does not require a hoist.
High quality double braided flex joint where applicable 
Sound options : Straight Pipe, Resonator or optional Large Muffler. 
OPTIONS
Our Options program allows you to customise some features of an Outback 4x4 Exhausts system.
The options we offer include :
* CHOICE OF MATERIAL 
409 Stainless Steel is a titanium stabilised ferritic material which basically means it is a steel alloy containing chromium. It contains less nickel and more carbon than 304 stainless steel. Ferritics are best suited for high temperature applications that require corrosion resistance and high strength. 409 is the most common material used for modern automotive exhaust systems and catalytic converter shells. It is more workable, more stable & is more tolerate to heat cycling ( "hot one minute, cool the next" heat cycle ) than 304. 409 resists both atmospheric and exhausts gas corrosion. It is magnetic due to its higher carbon content. 409 is easier to repair than 304 should you damage a part. All our 409 systems carry a 5 year warranty.Through chemical reaction 409 oxidizes to a slight brownish hue which aids in corrosion resistance - we always paint our Outback 4x4 systems with a heat resistant paint for added protection. Most manufacturers simply paint weld joins, flanges & brackets - WE PAINT THE WHOLE SYSTEM FOR ADDED PROTECTION.
ACMS - Aluminium Coated Mild Steel also know as Aluminised, is a steel that has been hot dip coated on both sides with aluminium silicon alloy. This process assures a tight metallurgical bond between the steel and the aluminium coating. As with 409 we always paint our Aluminised systems with a heat resistant paint. Our Aluminised systems carry a 3 year warranty.
* With High Flow Cat or Without Cat 
We recommend selecting a system with a Catalytic Converter - we use 200 High Flow diesel specific converters for optimum flow. If you go for a "No cat" system you may make your vehicle non compliant with  Australian emissions regulations, depending upon the age of the vehicle. This can lead to being defected &    fined for your vehicle being non compliant.
* No Muffler , Resonator or Large Muffler                                                                                          
Selecting a sound option depends upon your preference & the vehicle you have. A No muffler system will in  most cases be loud - the exception to this is DPF Back systems. A resonator usually offers a mid tone note  & a Large Muffler a quiet note. Most of the mufflers we use are of a straight through design for optimum   flow & heat dissipation. Exhaust note varies from one model to the next - what you may love can drive   someone else mad ! If in doubt please call us so we can run through the options with you !
* Tail Pipes                                                                                                                                     
Depending on the vehicle we may offer a variety of tail pipe options, side exit, twin exit, Cerachroming etc
PACKAGE INCLUDES: 
Dump Pipe with Cat / Flex
Intermediate Connecting Pipe
Muffler assembly ( delete available )
Tail Pipe assembly
Gaskets, Nuts & Bolts  
ITEM SPECIFICS:
| | |
| --- | --- |
| PART NUMBER | OE4646-A |
| VEHICLE MANUFACTURER | TOYOTA |
| MAKE | HILUX |
| SERIES | KUN26R |
| BODY | DUAL CAB/SINGLE CAB               |
| ENGINE | 1KD-FTV 3.0L |
| TRANSMISSION | AUTOMATIC / MANUAL |
| PRIMARY BUILD MATERIAL | Aluminium |
| PAINT TYPE | HEAT RESISTANT ENAMEL |
To suit - HILUX KUN26R 3" TURBO BACK - ALUMINISED
To suit - 03/2005 - 2015
Contact Details
Request More Information
Details of the product above will be automatically included with your enquiry.